I had a great week this week! I was really excited when the package of 6 books from Mary Hogan came in. :) Thanks to
The Compulsive Reader
for holding that contest! I also went to Borders, armed with a $15 gift card and a 40% off coupon. I finally got Wintergirls, I'm so excited to read it! I've got a ton of reading to catch up on with all these books coming in, but I've been busy with school and some other things going on in the community around here. Expect reviews more frequently in the next few weeks as I find more time for reading.
Pretty F
ace

Mary Hogan

Hayley wishe
s she could love living in Santa Monica, blocks from the beach, where every day—and everybody—is beautiful and sunny. But she just doesn't fit in with all the blond, superskinny So
uthern California girls who have their plastic surgeon
s on speed dial. Hayley is sm
art and witty and has such a pretty . . . face. Translation: Don't even think about putting on a bikini, much less dating superhot Drew Wyler. A bikini will never be flattering, and Drew will never think of her as more than a friend.
Just when Hayley feels doomed to live her life in the fat lane, her parents decide to send her to Italy for the summer—not for school, not for fat camp, just for fun. It's there, under the Italian sun, that Hayley's vision of herself starts to change. She's curvy, not fat. Pizza isn't evil. And life is so much more than one-size-fits-all. Who knows? Once Hayley sees herself in a new light, maybe the girl with the pretty face will finally find true amore.
***************************************
Susanna Sees Stars
Mary Hogan
S
usanna Ba
rringer's internship at Scene magazine is a dream come true. She'll dish the latest celebrity stories and be the youngest journalist to rub elbows with the stars.
But her first real celebrity sighting is a disaster. And her second. Then her third. Her boss can't remember her name. And her trendy coworkers mock her intervi
ew skills along with her fashion sense.
Is Susanna out of her league? Or can she reach the stars to get the scoop of the summer?
***************************************
Susan
na Hits Hollywood

Mary Hogan
Susanna Barringer, celebrity reporter, is off to Hollywood for the Academy Awards. She'll
parade down the red ca
rpet, schmooze with the stars, and land a leading story for Scene magazine.
But when her ticket to fame is lost on her first day in Tinseltown, Susanna concocts a high-stakes plan to get back on the inside. And in a sea of celebrity reporters, she is determined to rise to the top.
Leave the
Pulitzer to the pros - Susanna is after the Academy Award for Gutsiest Teen Intern!





***************************************
Susanna Covers the Catwalk

Mary Hogan
Grey is the new black and shorts are the new trousers - or, is it pink and skinny jeans? And what is the difference between a catwalk and a runway? All Susanna knows for sure about the fashion world is that Nell, her demanding
Devil-Wears-Prada boss, is most definitely a certifiable nutcase.

It's Fashion Week in New York City and Susanna is smack in the middle of the action. Not quite backstage, but how hard can that be for a girl who gets the story no matter what? All she has to do now is sneak behind those velvet ropes and uncover the scoop of the century...

***************************************
Perfect Girl

Mary Hogan
Out of the blue, Ruthie has fallen in love with the boy next door, Perry. He's suddenly grown up and made her heart go thwang, and Ruthie has no idea what t
o do about
it.
Then a new girl shows up at school, and Ruthie realizes that she has to do something, and fast. Jenna is perfect, from her perfectly straight hair to her perfectly manicured toes. Perry's noticed her too, and worse, Jenna has noticed him right back. Ruthie knows she has to call her aunt, New York's "Goddess of Love." If Aunt Marty, romance columnist and woman of the world, can't turn Ruthie into a perfect girl, no one can...but she might also turn Ruthie's entire world upside down.






***************************************
The Serious Kiss
Mary Hogan
One summer day, Libby and her best friend, Nadine, come up with a plan. Before their freshman year is over, they will each experience a serious kiss. Libby already has her ideal boy picked out. Everything is set.
But Libby's beer-guzzling father and fast food–addict mother have another plan: The family is moving. To the middle of nowhere. Away from all of Libby's friends and all hope of a normal life, much less a boyfriend.
As her life and her family are falling apart, Libby starts to wonder, Is happiness really about being normal? Or is being happy maybe just...being yourself? As she begins to figure out who she is, Libby discovers the most amazing thing of all -- being herself could also be the key to a perfect, incredible, wonderful, serious kiss.
***************************************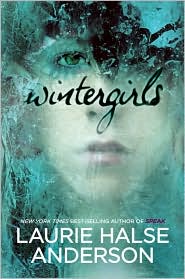 Wintergirls

Laurie Halse Anderson
"Dead girl walking," the boys say in the halls.
"Tell us your secret," the girls whisper, one toilet to another.
I am that girl.
I am the space between my thighs, daylight shining through.
I am the bones they want, wired on a porcelain frame.
Lia and Cassie are best friends, wintergirls frozen in matchstick bodies, competitors in a deadly contest to see who can be the skinniest. But what comes after size zero and size double-zero? When Cassie succumbs to the demons within, Lia feels she is being haunted by her friend's restless spirit.
In her most emotionally wrenching, lyrically written book since the multiple-award-winning Speak, Laurie Halse Anderson explores Lia's descent into the powerful vortex of anorexia, and her painful path toward recovery.
***************************************
Skin
Adrienne Maria Vrettos
You don't have to be thin to feel small.
Donnie's life is unraveling. His parents' marriage is falling apart, and his sister is slowly slipping away in the grip of her illness. To top it all off, he accidentally starts a rumor at school that hurts someone he cares about and leaves him an outcast.
So Donnie does the only thing he knows how to do: He tries to fix things, to make everything the way it was before. Before his parents stopped loving each other, before his sister disappeared, before he was alone. But some things are beyond repair, and it will take all Donnie's strength to stop looking back and start moving forward again.