I've decided to revamp my In My Mailbox posts, because it can be a bit time consuming with the layout that I currently use for it. I'm going to keep it somewhat similar, but squish it together a bit and leave out the summaries. It gets kind of tedious and time consuming, trying to format everything to how I had it before. I'll post links to the amazon pages, so if you click on the title you can still see more information about the book. Give me feedback, let me know which format of my IMM posts you like better! Here we go :)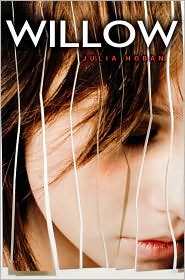 Willow by Julia Hoban


Y
es, I already have a copy of this and have given it a wonderful review. But I ordered another copy to donate to the local library, so the wonderfulness can be shared. Th
ere was a bit of a screw up with my order, but that's a whole other stor
y...

Haunted by Meg Cabot


One of the other books in the Mediator series! I'll have to get ahold of the copies between the first one and this one before I'll read it, but I'm still excited to have it. It's also fairly larger than the first one that I already have, and that's going to bug me a bit when I go to put it
on the shelf next to

Shadowland

. I suppose I'll deal, though...




How To Buy A Love Of Reading by Tanya Egan Gibson

This lovely book showed up on my doorstep today. I'm so excited for this one. I really like the idea of it and I'm eager to see how the author has built a story around it. This will probably be the next book I read, after I finish the one I'm currently reading.





Pure by Terra Elan McVoy

I received this for review, though I'm not quite sure where it came from. I don't remember discussing it with any publishers or anyone anywhere else. It's neat that I ha
ve it though, because I remember reading about this somewhere else and thinking that it sounded so interesting. I think this has an interesting concept as well, with purity rings. Can't wait to see what happens in this book :) I like the cover a lot too.



Initiation by Susan Fine
Thanks to Shooting Stars Mag for holding the contest that I won this from. It seems I've been winning a lot of contests lately and I feel very lucky for that. I really like the cover on this one, and I'm excited to read about a book that takes place in an all boys school. I don't think I've ever read a young adult book that takes place in such a setting.