Sorry for the lack of posts lately, I was in Las Vegas doing some shopping for the past few days. I did manage to read a little bit while I was there, so I should have another review up soon. Here's what was in my mailbox this week :) I'm reeeeally excited for Psych Major Syndrome.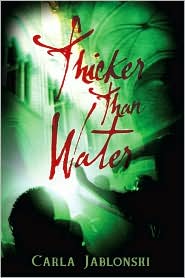 Thicker Than Water by Carla Jablonski
Kia is searching for an escape. From her mother's cancer. From her father's apathy. From her own rage.
The pressure is building. There's a craving in her veins, a secret urge. She needs a way to let the inside out. But she knows she must resist. She knows she must find another way.
When she becomes immersed in an underground scene - goths who live as vampires - Kia thinks she's finally found that way.
At the center of everything is the sexy and mysterious Damon. With his otherworldly presence he pulls Kia deep into the night. into a world where the unbelievable can be believed, the unreal made real, until Kia herself can no longer draw the line.


********************

Psych Major Syndrome by Alicia Thompson

Patient Name: Leigh Nolan
Age: 18 years
Presenting Concerns:
Leigh Nolan has just started her first year at Stiles College. She has decided to major in psychology (even though her parents would rather she study Tarot cards than Rorschach blots), despite reporting that she thinks, "Psychology is a load of crap."
Patient has always been very good at helping her friends with their problems, but when it comes to solving her own...not so much.
Patient has a tendency to overanalyze things, particularly when the opposite sex is involved. Like why doesn't Andrew, her boyfriend of over a year, ever invite her to spend the night? Or why can't she commit to taking the next step in their relationship? And why does his roommate Nathan dislike her so much? More importantly, why did Nathan have a starring role in a much-more-than-friendly dream?
Aggravating factors include hyper-competitive fellow psych majors, a professor who's badly in need of her own psychoanalysis, and mentoring a middle-school-aged girl who thinks Patient is, in a word, nave.
Preliminary treatment will include Introduction to Psychology, but may require more if she's going to answer these questions and make it through her freshman year.
Diagnosis:
Psych Major Syndrome