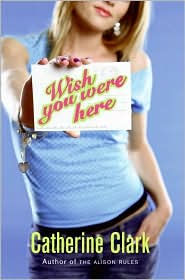 Title: Wish You Were Here

Author: Catherine Clark

Publication date: March 25th, 2008
Summary:
Ariel Flack never thought she'd write a postcard saying "Wish you were here," especially to Dylan, the boy she's had a crush on forever and is finally (sort of) dating. She also didn't know she'd be sending that postcard from the family vacation from hell—a two-week geriatric bus tour with her crazy mom, annoying sister, embarrassing uncle, and frighteningly energetic grandparents.
As South Dakota rolls by at five miles an hour, Ariel begins to learn that sometimes life is just too complicated to fit on a postcard. Sometimes your parents let you down (and sometimes they don't). Sometimes you meet an unexpected fellow traveler. And sometimes you just have to go where the road takes you—even if the tour bus won't.


Review:
This was one of the most fun books I've read in a while. Filled with tons of funny and unexpected moments, I couldn't help but laugh and smile throughout the whole book. First Ariel's mother tells her that they're going on a road trip. As if that isn't bad enough, Ariel soon finds out that it's actually a bus trip - filled with her crazy relatives, lots of old people, and even a Chihuahua. The tour is through Leisure Lee Tours, with two crazy tour guides, and no set schedule. If this doesn't create opportunities for interesting things to happen, I don't know what does. The writing was fresh, and the plot was original and not something that I've already read a million times. Each character had a unique personality and their own quirks; which I liked because even though there were quite a few of them, I felt like I got to know every one of them. If you're looking for a quick, fun summer read before the summer's over, I'd highly recommend this one.


Characters: 8/10
Plot: 9/10
Originality: 9/10
Writing: 8/10
Overall grade: B