Before I post the review, I wanted to let you all know that I'm making a few revisions to the way I review books. I'll now post the date the book was (or will be) published, and I'm going to give a few more ratings in addition to the "Overall Rating". Hopefully this will give you a better understanding of what I liked or disliked about a book. I also think I'm going to switch the ratings to be out of 10 instead of 5, as I think this will work better. Thanks for your votes in the poll on the sidebar, and please vote if you haven't already done so! It really helps me out. :) Now on to the review.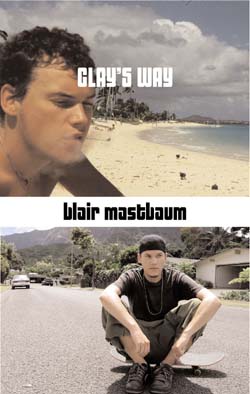 Title: Clay's Way
Author: Blair Mastbaum
Publication date: July 1, 2004

Summary:

A wannabe punk rocker who writes bad haiku poetry, 15-year-old Sam is fed up with his middle-class parents, his geeky best friend, and his inability to do the raddest skateboard tricks. Then he meets Clay. Mistaking lust for fate, Sam becomes obsessed with the 17-year-old surfer boy, whose island cool masks an internal conflict even darker than Sam's. Directing his furious energy toward winning Clay's heart, Sam goes on a reckless odyssey to become everything Clay seems to be. Through hurricanes, car accidents, teenage parties, and monster waves they ricochet off each other until, on a remote beach, in the flickering light of torches and campfires, the violence and tumult of Clay and Sam's dynamic propels them both through the hardest decisions and obstacles of their young lives.

Review:

I really enjoyed this book. A word of warning though - if you don't like reading books involving a lot of drugs and a lot of cussing, this isn't the book for you. However, I didn't mind it, and I thought this was a great book. I've never read anything quite like it before. Sam seemed a few years older than 16, I thought, judging by some of his actions and the way he thinks. It also seemed a bit unrealistic to me, the way Sam would pretty much do whatever he wanted with almost no consequences. I could definitely relate to him though, with his feelings towards Clay, wanting something that isn't easy to get, and being unsure a lot of the time. I also felt really bad for Sam, when Clay would do something and then basically push Sam away. Also, the ending didn't make a ton of sense to me.
I liked the style of writing. It seemed more like reading someone's personal story, kind of, rather than reading a book. Blair Mastbaum just has that raw kind of writing (with a lot of interjected cussing, as I mentioned earlier). Overall, I really enjoyed this book and would definitely read it again. It's kind of one of those books that every time you read it, you'll find some little thing you missed before.

Characters: 8/10
Plot: 9/10
Originality: 8/10
Writing: 9/10
Overall grade: B